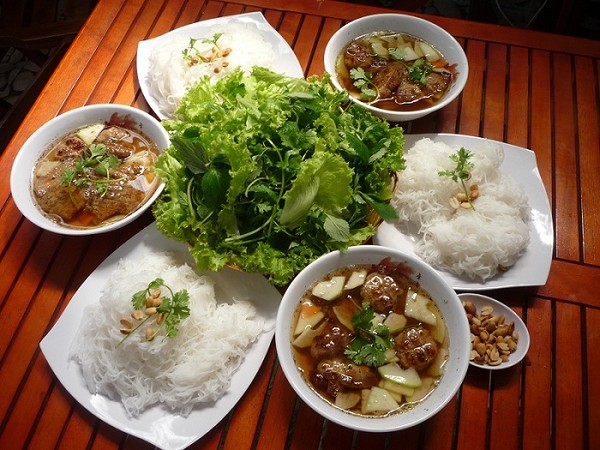 Bun Cha- Ha Noi cuisine is a combination of spices to create harmony in typical Vietnamese cuisine and express the ingenuity of Vietnamese housewife. This is catered with herbs and special dipping sauce. It is easy to find out the restaurants along Small Street selling Bun Cha. Its favor makes you memorize about typical Hanoi street food. If you do not have opportunity to visit Vietnam, you can make it by yourself in your country by following the below receipt. Its taste will be similar with Vietnamese taste if you are really ready and follow our instruction:
In order to make a nice Bun Cha, you need to prepare enough ingredients:
1. 500g grinded pork.
2. 500g grinded pork is marinated with 1.5 salt, seasoning, honey and 0.5 fish sauce (nước mắn), pepper teaspoon.
3. Spring onion (taking the white parts), Purple onion,1 carrot, ¼ papaya green fruit, vinegar, garlic and chili.
4. Cilantro, mustard leaf and lettuce, Vietnamese balm (rau kinh giới), salad, coriander.
Process to make the Bun Cha
Step 1: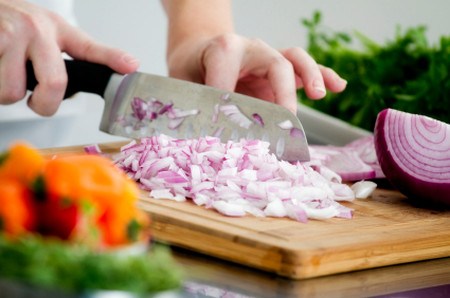 Smash the white part of spring onion, Peel off the cover of purple onion- slice small.
Put the grinded marinated pork into the bowl and mix with all white part of spring onion and purple onion. Mix well and careful in 5-6 hours, this is very vital step to make the Vietnamese noodle recipe.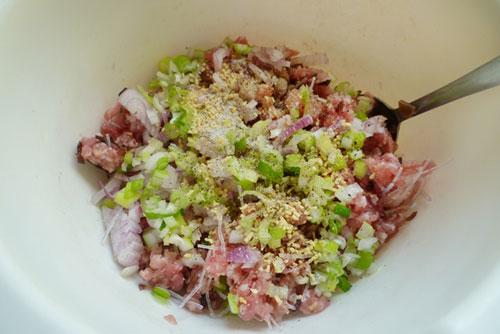 Step 2:
Peel off the cover of carrot, papaya green fruit, slice them and mix all slices together. Putting little amount of salt into the mixed carrot and papaya and wait in 10 minutes, and then use your hand to press water out. Soaking them with little vinegar and sugar until it has light sweet and sour taste.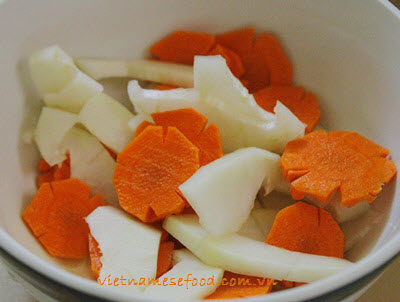 Step 3:
Dipping sauce: boiling the water (wait until it gets cold). Adding more sugar, vinegar and fish sauce, seasoning slowly to suit for your taste. Next, add more garlic and chili, marinated papaya and carrot.
Step 4:
Clean all kind of vegetable with water added a small amount of salt and then washing them again by fresh water.
Step 5:
Making the grinded pork into small circles, and then you can use the oven to bake the grinded pork but it is will be more delicious if you use coal stove with red coals. You should prepare a bowl of vegetable oil to sometimes baste the meat to make it not dry. You should pay attention to grill the pork until the faces turn brown color and spread the fantastic favor.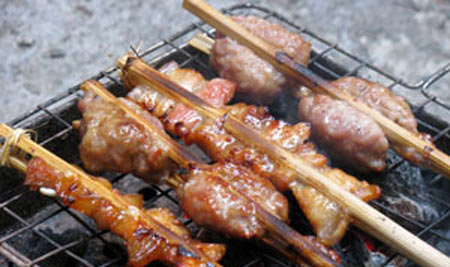 Finally, you have just made the amazing Bun Cha cuisine for yourself and family. When enjoying the dish, remember to sprinkle a small of the pepper on the surface of dipping sauce to increase its favor and eat the grilled pork when it is still hot. You should put a grilled pork piece, some vegetable leaves and noodle into dipping sauce and eat them together. Good luck for your cooking and have good appetite.
Noticeably, when you come to Ha Noi, you can find some popular restaurants to enjoy Bun Cha such as 23 Nguyễn Biểu,Ba Đình, Ha noi ; 2 Hàng Khoai, Old-quarter, Ha Noi( having 15 experience years in making Bun Cha),34 Hàng Than, Old-Quarter, Ha Noi (the cheap and delicious Bun Cha will be surprised at you); Hằng Nga Bun Cha, Dong Xuan alley, Hang Chieu, Hoan Kiem, Ha Noi.