From Michelin-starred fine dining, to chili-laden, beer-swilling, street-food staple, the humble snail takes many forms.
Oysters, lobsters, sushi and snails; all now "posh" and expensive elements of global food culture. They were, however, once all considered to be the food of the lower-classes.
In fact, oysters were so plentiful during the European colonization of the Americas that their crushed shells were a common component in brick making. Likewise, the practice of wrapping raw fish (and other meats) in rice was, many centuries ago, a common way for Japanese farmers and fishermen to preserve food for several months at a time.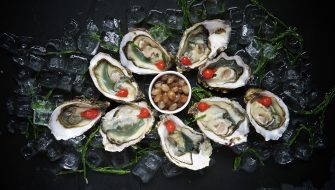 And then there's lobster, that ubiquitous element of modern fine dining. According to a report on the creature's recent popularity by the U.K.'s Telegraphnewspaper, the clawed crustacean was "once not deemed worthy for anything other than the 'lowest of the low.'"
It's funny how things change. Add a bit of gold leaf, a smear of pureed veg, a froth of salty foam, and a jacked-up price tag, and suddenly the cuisine of the working classes jumps a few steps up the social ladder.
As with bread, beef, carrots and coffee, it would be easy to assume that the practice of eating snails came to Vietnam with the French in the 1800s, but the Vietnamese have been doing it for thousands of years.
According to "Rice and Baguette: A History of Food in Vietnam," by Vu Hong Lien, mounds of discarded mollusk shells discovered in Nghe An Province, northern Vietnam, each measuring several meters high, are thought to date back over 10,000 years.
Found all over Vietnam, and with ea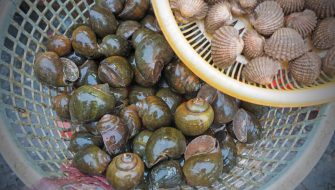 ch region boasting its own speciality dishes, from warming winter snail porridges in Hanoi, to roadside beer and barbecue joints in Saigon, the country is a haven for snail lovers.
While the French pick their escargot from just a handful of land-based varieties, the Vietnamese translation of "oc" actually refers to a vast array of shelled creatures, from smaller river and rice paddy snails, to giant saltwater conches.
For those in Hanoi, bun oc (snail noodle soup) is a local comfort-food breakfast staple. Bun Oc Co Them (6 Hang Chai, Hoan Kiem District) is a popular spot with the locals, having been handed down through several generations of the same family. It opens for just a few hours each morning, so arrive early to avoid disap
pointment.
According to Loan Tran, the snail experience is a must for anyone visiting Vietnam, and she always encourages her foreign guests to try a plate or two. "Usually they will say it's interesting and delicious," she says, "but not all of them can finish the dish. Some will stop after two or three, maybe because they're not familiar with eating snails."
As for how to eat your snails, Loan has some good parting advice: "You should not drink sugarcane juice or coconut juice [with them]," she says, "because it can give you a stomach ache. It's better to go with the locals and do what they do."
Source: vnexpress.net