Tour Code: GT401
Departure time in the morning from:  8.00 am – 12.30 pm (lunch included)
Departure time in the afternoon from: 1.00 pm – 5.30 pm (lunch included)
Group size: From 2 persons (maximum 12 people)
Escaping from the vibrant city of Hanoi, you will have an opportunity to immerse yourselves into the peaceful and unspoiled villages with tranquil farms of the Red River Delta. Not only will you be able to explore the traditional villages, but also learn about the daily life of the locals who don't live very far from Hanoi. Additionally, you will have a chance to enjoy some local food and take part in some interesting activities of people here. This Red River Delta half day tour on motorbike will bring you amazing experience.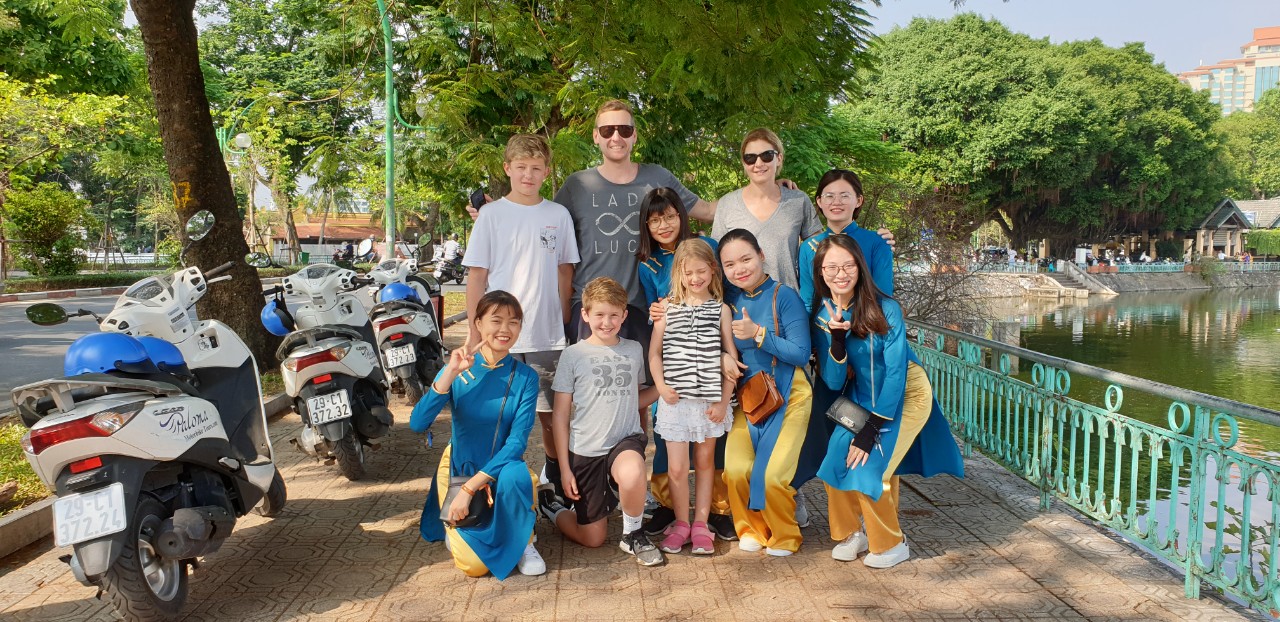 Daily Itinerary:
Café Trứng (Egg Coffee) at Café Giảng on Yen Phu St.
Have you heard about Egg coffee? It sounds a bit weird but the taste is amazing. Egg coffee is also an unusual and unique type of coffee that you can't find anywhere else outside of Vietnam. Even if you are not a coffee-lover, it is still worth trying this creative mixing of coffee by Vietnamese people. Also, you will have a lot of choices for drinks at Cafe Giang where we will introduce our tour and the schedule while you enjoy your drink.
Hanoi Opera House 
You will walk along Trang Tien street to enjoy ice-cream from the famous brand in Hanoi. We will then take you to the Hanoi Opera House-the oldest Opera House in the city with its architecture influenced by the French. Our tour guide will tell you about the history of this place while you explore the Opera House and the surrounding area.
Motorbiking through Chuong Duong Bridge 
After a quick visit to Hanoi Opera House, we will continue the tour by crossing Chuong Duong Bridge. Unfortunately, we can't stop on the bridge as it doesn't allow any parking. However, you can sit on your motorbike and take a picture of the stunning view from the top of the bridge.
Long Bien Bridge 
Long Bien Bridge was the longest bridge in Asia when it was built from 1899 to 1902. With Long Bien Bridge, you can take some time to enjoy the view and take pictures. Our tour guide will also introduce the history of the bridge as well as details about the life of locals from 2 sides of it.
Experience local's life with Red River Delta
Not many living in the capital city know that the Red River is a place many people call home. The residents of Long Bien District's Phao village, a floating settlement on the banks of the Red River, lead a life of poverty in one of Vietnam's most developed metropolises.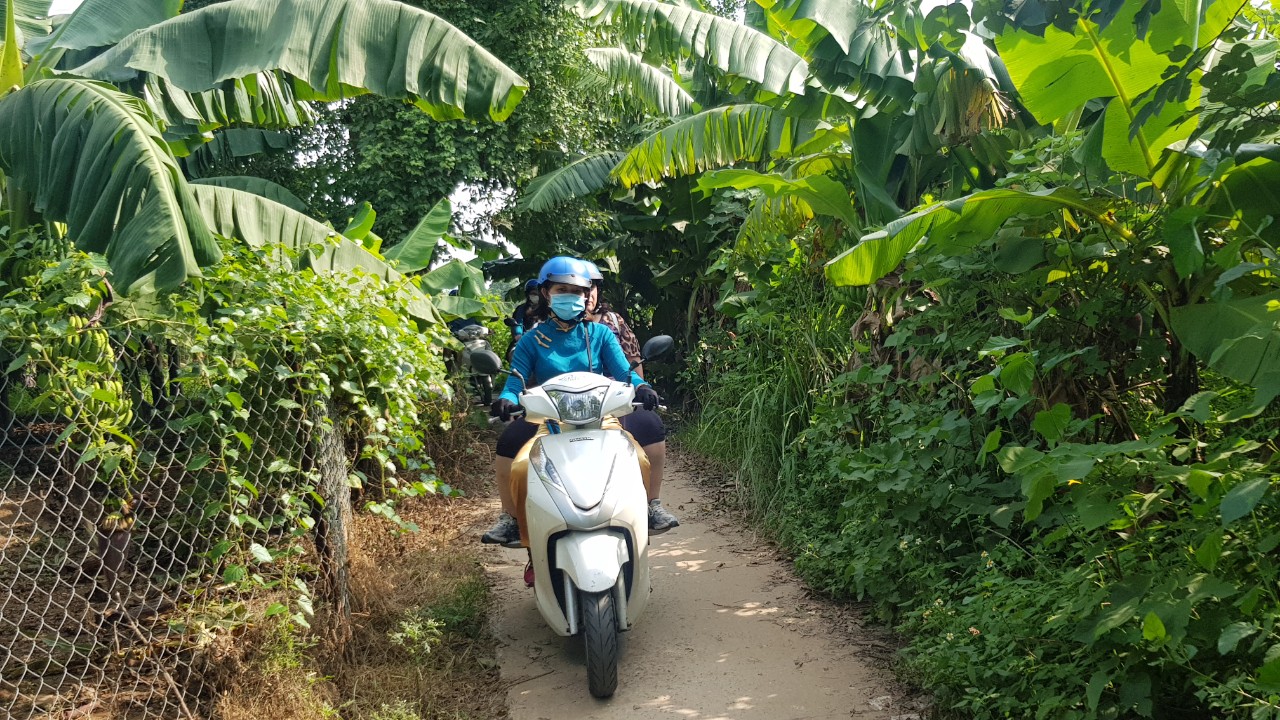 Around 27 families living in Phao village in precarious circumstances. Rickety wooden houses are surrounded by a river but have no access to clean water for drinking or cooking. Generations of families live under one roof, parents struggle to send their children to school and necessities like medical care are simply not an option.
With nearly 2 hours exploring the area, you will get to discover a unbelievable peaceful life with daily activities of the residents here. You also get to eat bananas from the farm, spend some time with locals at their house, take pictures of the unspoiled villages. This is definitely a must-see destination in your trip to Hanoi.
Tran Quoc Pagoda 
Leaving the beautiful villages in the Red River Delta area, we will stop at Tran Quoc Pagoda which is situated in a picturesque landscape on our way back. The pagoda is right next to West Lake-the biggest lake in Hanoi city. It is also near the most beautiful street in Hanoi-Thanh Nien street and has a stunning architecture. You will have time to take pictures and enjoy the view of West Lake here.
The downed  B52 in Huu Tiep Lake
We will then have a quick visit to the B52 plane crash site. This is a remarkable victory of Vietnam soldiers during the Vietnam war. You will also get to visit a local market nearby to see daily activities of the Hanoians.
Ho Chi Minh Mausoleum 
Ho Chi Minh Mausoleum is the final resting place of Ho Chi Minh, the most iconic and popular leader of Vietnam, known to his people as 'Uncle Ho'. His body is preserved here in a glass case at the Ho Chi Minh Mausoleum in central Hanoi.
At this stop, while you can take some time to see the attraction from outside and take pictures, our tour guide will fill you in with more stories about our Uncle Ho & the historical information.
Lunch time
Feeling hungry? Inclusive of course, we'll circle back to the Old Streets and fill our belly with "duh-li-cious" local cuisines.
There are a lot of delicious dishes that we would love you to try, including Pho cuon (Spring rolls with rice paper), Bun cha (Noodle with grilled pork) and bread, Pho Hanoi (Hanoi beef noodle soup). After lunch, you will be served desserts such as sweet soup or fruits mixed with yogurt.  
We hope you will enjoy the tour and we will be looking forward to seeing you next time!
Note: The above itinerary is subject to change, based on the day's weather and traffic conditions.
INCLUDE
Motorbike with a high quality helmet
Insurance Cover
Tour Guide / English to Vietnamese
Female driver to drive your motorbike and answer your questions
Tour Guide Leader and a male Tour Coordinator on the leading motorbike
Wet Weather Poncho (if required)
Hotel pick up and drop off
Pure water bottles at short stop
Coffee / Tea / Soft Drink at the meeting point
Sightseeing entrance fees
A range of Vietnamese snacks
Lunch/ Dinner unlimited amounts of authentic Vietnamese food from the menu to suit your taste requirements including unlimited drinks (Cold Beer / Cold Soft Drink / Tea).
EXCLUDE
Gratitude / Tips to Tour Guide (recommended)
Bottled Wine and Spirits available during Lunch / Dinner
Any items not mentioned above.